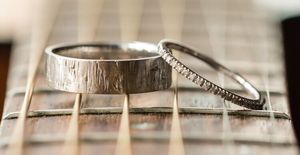 Platinum Premier
The Platinum Premier Wedding Package offers the following services;
1-2 hour consultation (as needed) - either in person or virtual,  the consultation will allow you (the bride and groom) to discuss your musical tastes with Sarah - special songs, favorite genres etc.  You will talk about the feel and ambience you are looking to create and the musical landscape for your wedding day, including special ceremony songs, cocktail hour, and more! Here you can also discuss options for a more robust live set - add piano, bass, lead guitar, or violin! Together you will create the perfect soundtrack to your very special day!
Up to two (2) ceremony songs;
1-hour, Live Cocktail Set (additional cost for added musicians should that option be chosen); 
DJ / MC during reception  (introductions to the wedding party, cake cutting, special announcements etc.);
Sound Provided (Bose Systems);
Beyond 90-minutes from Worcester, Ma will require Lodging to be provided.