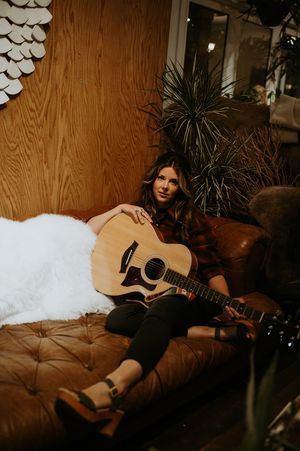 Bio
Straddling the fine line of folk and country, Sarah Louise French writes songs that are fresh, inspirational and that beckon a feeling of oneness, of love and of the shared human experience. With influences such as Bonnie Raitt, Linda Rhonstadt, Shania Twain, Paul Simon, Gordon Lightfoot and John Prine, French performs both original music and 60s/70s pop, folk and classic country covers in venues throughout New England and beyond. 
French was born in Central Massachusetts. She grew up on an Apple Orchard that her family purchased in 1912. With a love for music early on, she took any opportunity to get involved in music; from community theatre, to school choirs, piano/voice lessons, and the church. It wasn't until she picked up the guitar that she fell in love with the art of songwriting.  

After graduating from the University of Massachusetts, Amherst in 2009 with  a degree in Environmental Science, French spent five months traveling the country in a blue Subaru with her dog, Irie. Throughout her travels she met many fellow dreamers, musicians, and artists. It was here, busking on those streets, that French discovered her love for performance and for sharing her gift of song. She got her start performing professionally in the small town of Red Feather Lakes, Colorado where she spent time working on a ranch by day and singing in the local pubs by night.
Upon moving back to New England and focusing on a career in Environmental Science, French continued to make music a priority in her life. She founded the band 'Iza Jane' in 2010 and released the EP "Dirty Hands" in 2013. In 2016, she co-founded Women of Worcester Productions - an organization focused on celebrating, inspiring, and encouraging women in Worcester County through music, art, and leadership. Throughout her years of performing, she has shared the stage with such notable artists as Jonathan Edwards, Chris Thile and Shannon McNally.  
In August of 2022, French left the corporate world after a near decade career working as an environmental consultant, to focus fully on music and art. Her current body of work, 'Heavy Suitcase' is due to be released in 2024.
For her current tour schedule click the 'LIVE!' button below.